You might already know a lot about computers and a lot of interesting things in the digital world. However, if you need to kickstart your IT career, you need some sort of degree or certifications.
And, CompTIA A+ certification happens to be one of the most popular and most recognized certifications for problem solvers of the digital world.
CompTIA also offers a wide variety of certifications. But here, I focus on the A+ certification and recommend some free (and premium) resources. You can refer these to prepare for CompTIA A+.
Note: There's a lot of online resources available- here, we try to filter the best ones. So, feel free to explore more as per your preferences.
Free CompTIA Study Guides & Resources
There's not a lot of free resources specifically dedicated to CompTIA A+ certification. However, these resources should help you point out what exactly should you learn about.
It is worth noting that you won't find any "free CompTIA books" – so if you're looking for books, you can scroll down the article to find the premium books available online.
CompTIA Training Resources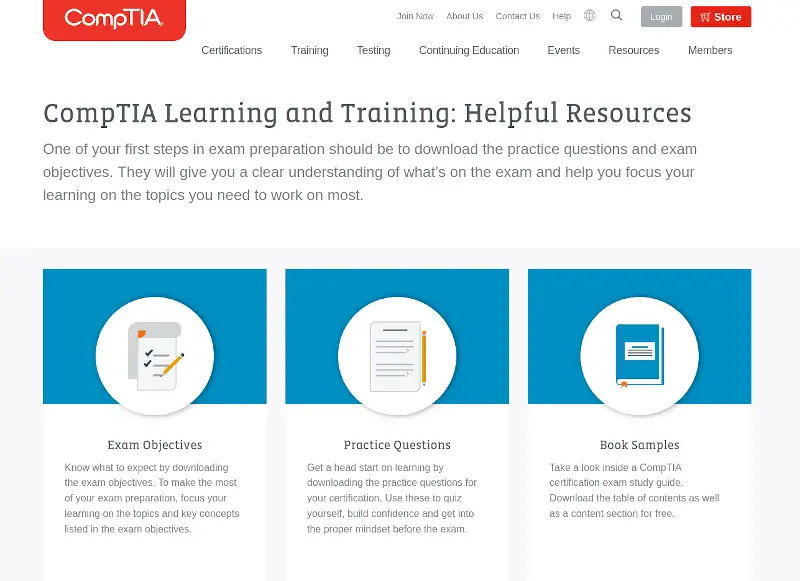 You can easily utilize the sample training resources provided by the official CompTIA website.
The sample books or resources aren't particularly helpful completely – but to get a rough idea of what you have to do, it is a good place to start with.
Potentially, you can expect the official samples to be up-to-date as per the latest examination standards.
Have a look at COMPTIA TRAINING RESOURCES
Union Test Prep
Union Test Prep is a free study guide resource that gives you a good idea of what you should learn while offering most of the basic materials for free.
Not just limited to a free study guide but you can also get free practice tests on CompTIA A+ certification. In addition to the test and the study guide, it also provides flashcards (works for summarizing what you read). Of course, the flashcards are also available for free, so that you can quickly give it a look to make sure you remember everything.
And, you don't even need to create an account to access the resources.
Take the PRACTICE TEST FOR COMPTIA A+
Quizlet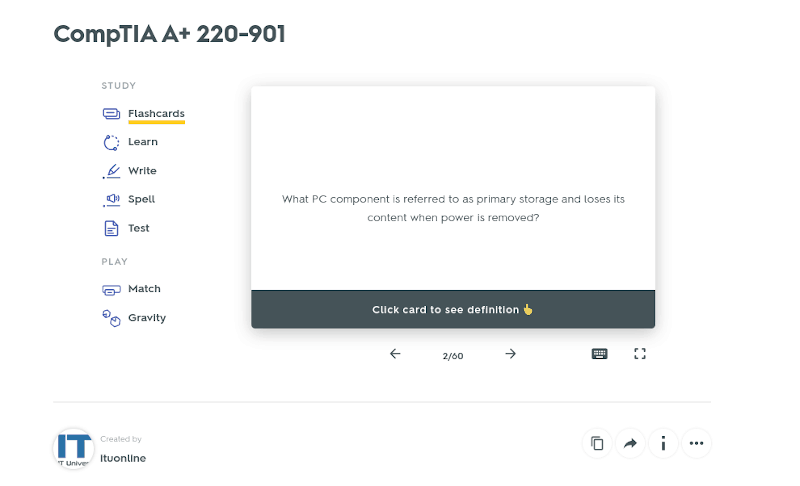 For a lot of people, learning through the form of question/answer(s) or specifically in a quiz format is better.
Hence, you can utilize Quizlet's resource for CompTIA A+ certification for free. You get access to flashcards and quizzes to learn quickly. You can opt for a premium if you want to get rid of the ads. In either case, it is mostly free to use without needing to create an account.
Read more about QUIZLET
Vista College Professional Development
As opposed to the name, it isn't an educational institute (or college) but a company that offers training programs for professionals.
Even though their direct services aren't relevant here, I stumbled upon a quick guide (a web page) which gives you a couple of useful hints for the CompTIA A+ exam. You can opt for their optional premium course – which I'm not aware of, but you should take a look at the webpage for quick info on CompTIA A+.
Take a look at VISTA COLLEGE PRO COMPTIA A+ RESOURCE
Premium CompTIA A+ Study Guides & Resources
If you're not satisfied with the free resource available, you can opt for paid or premium materials to prepare yourself for the certification exam.
CompTIA A+ Certification All-in-one For Dummies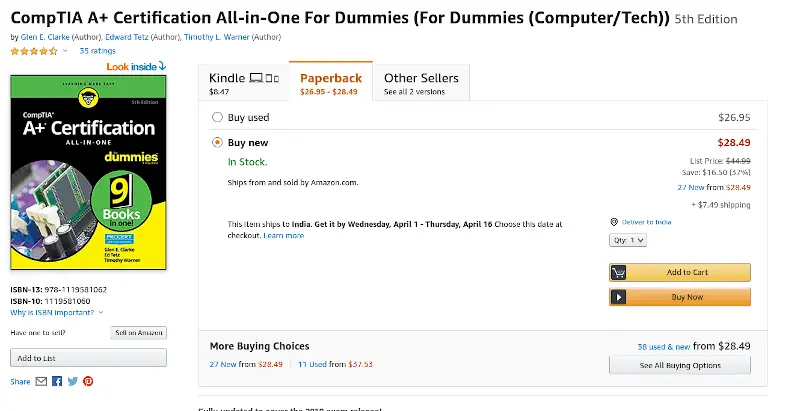 In addition to the free cheat sheet for CompTIA that it provides, you can also opt to purchase the popular all-in-one book for dummies in order to prepare for the exam.
Depending on when you read this – I advise you to verify that you are purchasing the latest edition of the book. And, undoubtedly this is one of the best CompTIA books available out there.
In addition to its official website, it's available on Amazon as a paperback and for Kindle as well.
Get COMPTIA ALL-IN-ONE FOR DUMMIES
CompTIA A+ Certification All-in-one By Mike Meyers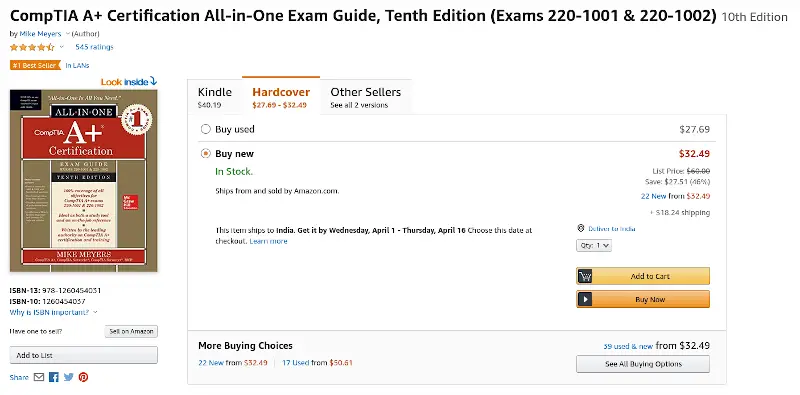 Yet another popular CompTIA A+ book that a lot of people like and recommend.
To purchase it, you can just head to Amazon to get the Kindle/Paperback edition.
Get COMPTIA A+ CERTIFICATION BY MIKE MEYERS
Udemy Coursess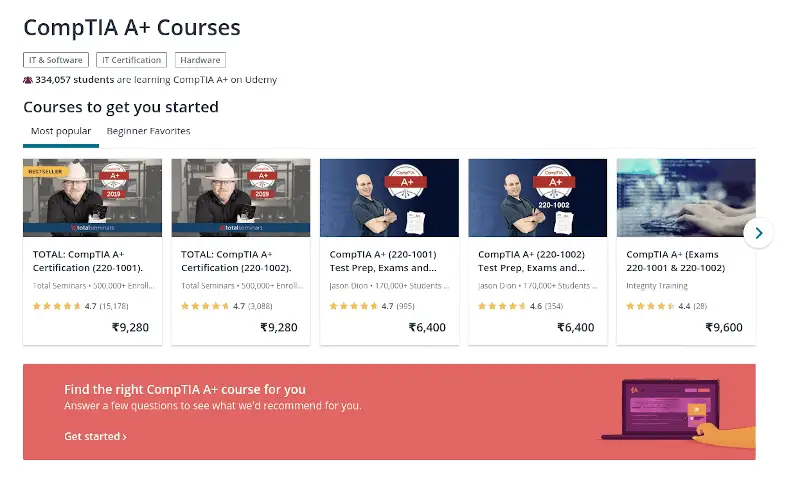 You might want to try a Udemy course if you want. There's a list of CompTIA courses available for you to opt for.
You can easily browse through the reviews and the overview of the courses to check if it fits you.
Browse UDEMY COURSES
Cybrary Courses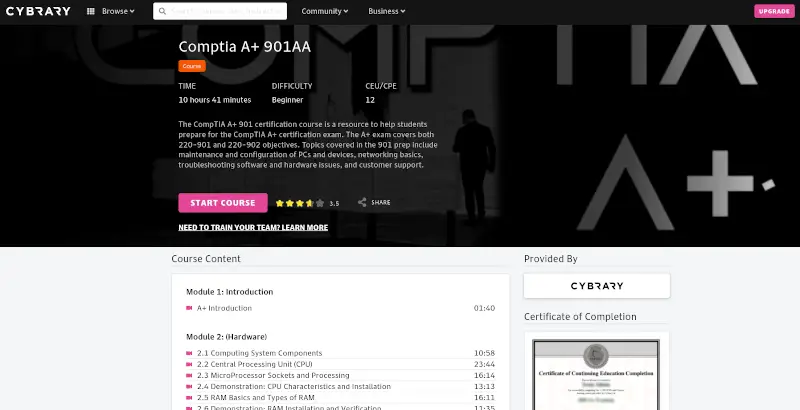 I've never tried the courses provided by Cybrary – however, I did stumble upon a decent course that may not cost a lot and might also give a certificate of completion for your skills.
You can give it a try and see how it goes for you. Of course, just like Udemy, you can get see an overview of what the course offers and decide accordingly.
Read more here: CYBRARY
Wrapping Up
Now that you're aware of a couple of important and popular resources and books on CompTIA A+ certification exams, feel free to explore similar materials along the line.
For the most part, these resources should be more than enough. Let me know if I missed listing your favorite resource or book for CompTIA A+ certification exam and share your thoughts in the comments below.